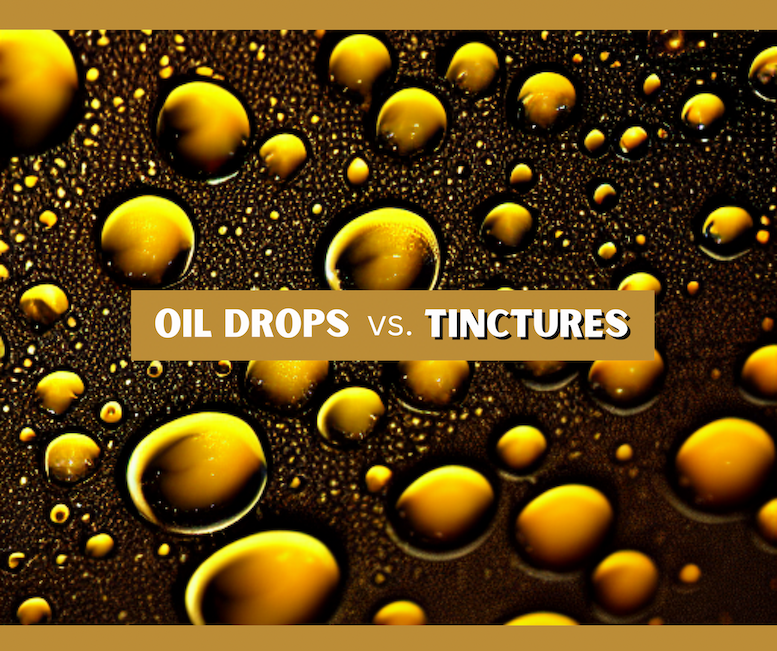 Last week we presented the top three types of CBD—Full Spectrum, Broad Spectrum, and Isolate.
This week, we want to help you differentiate between CBD in liquid form as either oil drops or tinctures.
The distinction is subtle and relatively simple, hence the brevity of this blog post.
What Are CBD Oil Drops?
CBD oil drops are a straightforward product having only a few ingredients. CBD oil drops are a refreshing exception in a world where ingredients often take up
the most real estate on product packaging and, to boot, can entail ingredients the average consumer can't pronounce or spell.
CBD oil uses only two ingredients—CBD itself and a carrier oil. The carrier oil gives the CBD drops texture and makes them palatable to ingest. Common carrier oils for CBD oil drops include:
Coconut oil
MCT oil
Hemp seed oil

We use Certified Organic MCT oil in our oil drops at HOH CBD. As if our premium-grade CBD oil isn't healthy enough—are you aware of the benefits of MCT oil? Join us for a future blog post to learn more about it.
What Are CBD Oil Tinctures?
CBD tinctures are similar to CBD oil drops but have an alcohol base. Alcohol ensures that the cannabis plant's compounds are adequately dissolved into the tincture. The average CBD tincture will contain between 60% to 70% alcohol. However, this alcoholic concentration can bring a bitter and unpleasant taste.
Other ingredients are added to counter or lessen the bitter tastes associated with CBD tinctures. These can include sweeteners and an array of flavorings.
CBD tinctures can also be enhanced by adding additional supplements, vitamins, and extracts. You can see examples of this in some of our Custom Formulations.
CBD oil drops and tinctures are different products, yet their difference is relatively minimal and relates solely to the product's base.
As is true for most CBD products, there are many options for getting your healthy daily dose of CBD. There is no universal right or better way; there is simply the best way for you.
If you have any questions about anything, please don't hesitate to reach out to us. You're the reason we're here.
Disclaimer
The products on this site are not for use by or sale to persons under the age of 21. Furthermore, they should be used only as directed on the label, and should not be used if you are pregnant or nursing. Always consult with a physician before use if you have a serious medical condition or use prescription medications. In general, a doctor's advice should be sought before using this and any supplemental dietary product. Finally, all the statements on this site have not been evaluated by the FDA, nor are they intended to diagnose, treat, cure or prevent any disease.